Catch 'n Cook: How To Cook Fish on a Campfire
There are few things more satisfying than spending a full day on the water ripping lips--and unleashing epic canon balls off a rope swing--followed by a catch 'n cook meal over a bonfire. Just ask BOTE Ambassador Harry Madison, who knows a thing or two about catching and cooking his dinner from the bayous and bays throughout Fort Walton Beach, Fla., and the surrounding area.
You can "catch and cook" a lot of things, but trout is an ideal fish for the whole family or a group of friends. For one thing, the white, flakey flesh is super mild and requires little seasoning. Plus, they're fairly easy to catch via any fishing platform in the BOTE fleet as they school. So as long as you prepare for the main event--a.k.a. reeling in enough fish to feed the whole family--you can't go wrong with speckled trout, redfish, flounder, or other mild fish for a simple and satisfying meal.
And as with most things in life, a little preparation can go a long way. So let's take a look at everything from what gear you need to fishing tips and a foolproof catch 'n cook recipe for how to cook fish on a campfire.
Catch 'n Cook: Fishing Gear
Before we get to how to cook fish on a campfire, we need to make sure you catch some fish first. You could totally wing it, or you could set yourself up for success. (PSA: Go with the latter if you're planning to feed the whole family--since you will, in fact, need multiple fish to cook at the end of this epic day on the water.)
The right setup is key for reeling in dinner, so make sure you have the following items loaded up before you hit the water.
Fishing Gear
Fishing License // Never leave home without it.
KULA 5 // Because you're going to need something to store your fresh catch. Note you may want to bring a separate bucket to use as a baitwell if you're bringing live bait, like shrimp.
Fishing Setup // Whether your preference is to rip lips on the fly or dip into your stockpile of artificial lures, it's important to have options if the end game is feeding your family or group at the end of the day. Aim to bring two rods and reels, each with a different setup. That way, if they don't respond to your presentation you can easily switch to your second setup without having to retie everything.
Bait // When it comes to trout fishing, artificial lures are fun but we have the most luck with live shrimp. Make sure you have options.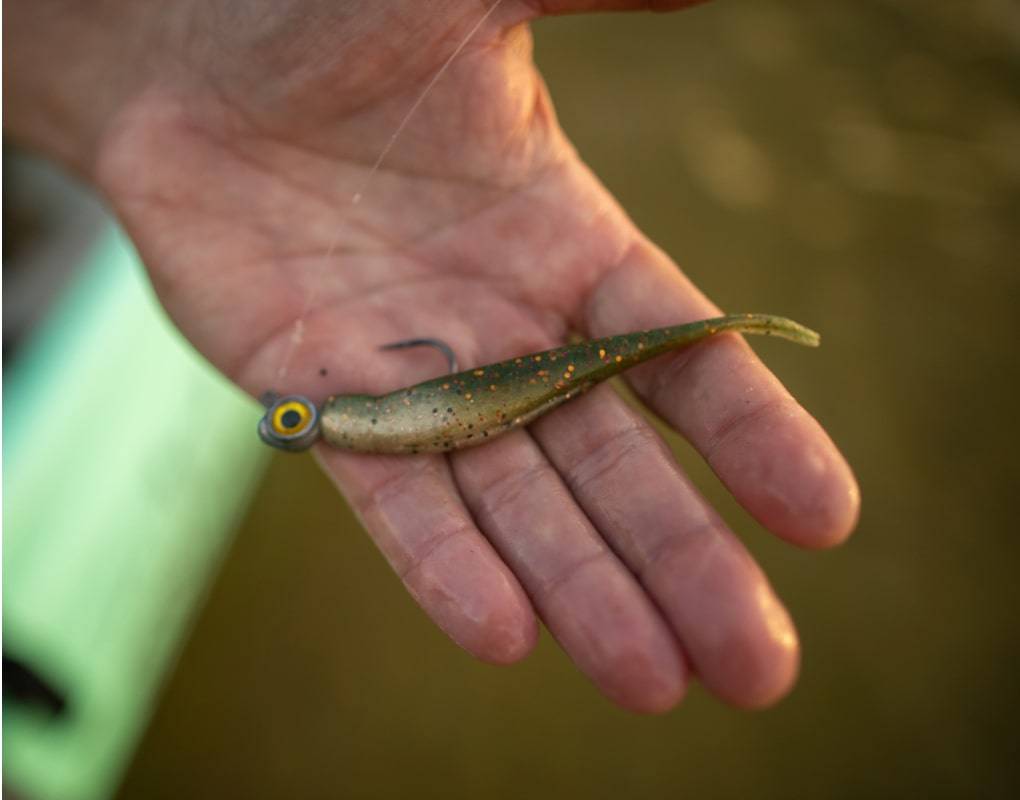 Pro Tip:

A fun and easy way to pull in multiples of trout? Tie an artificial or live shrimp under a popping cork.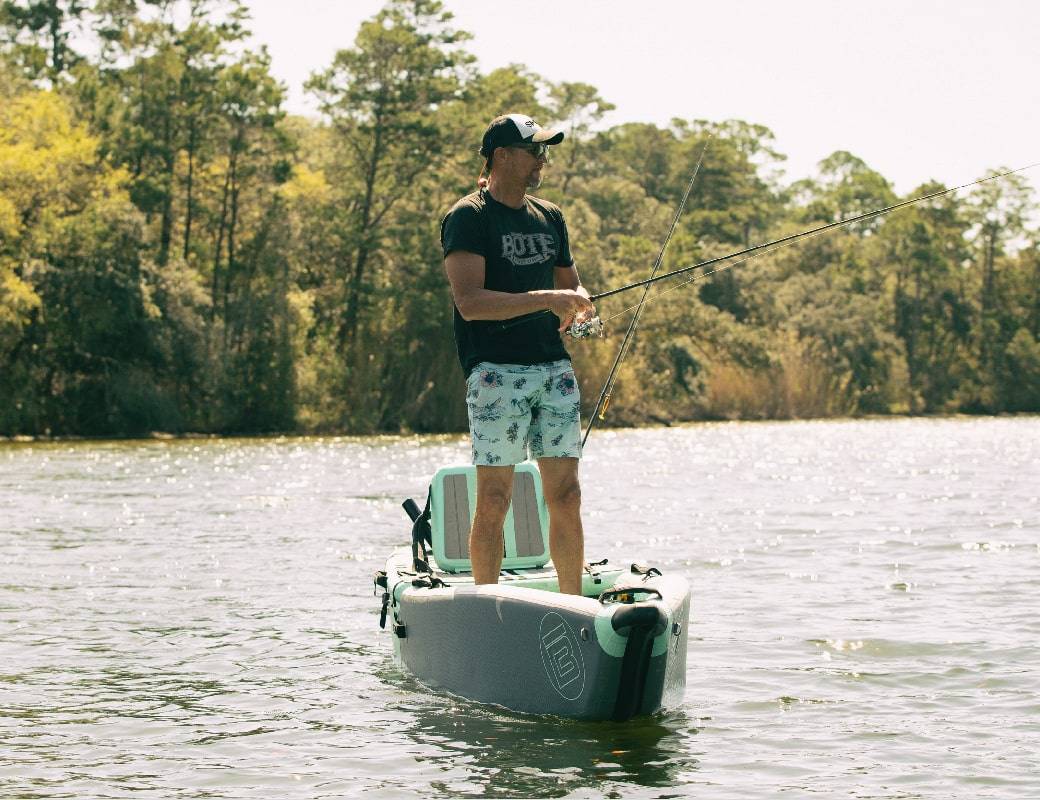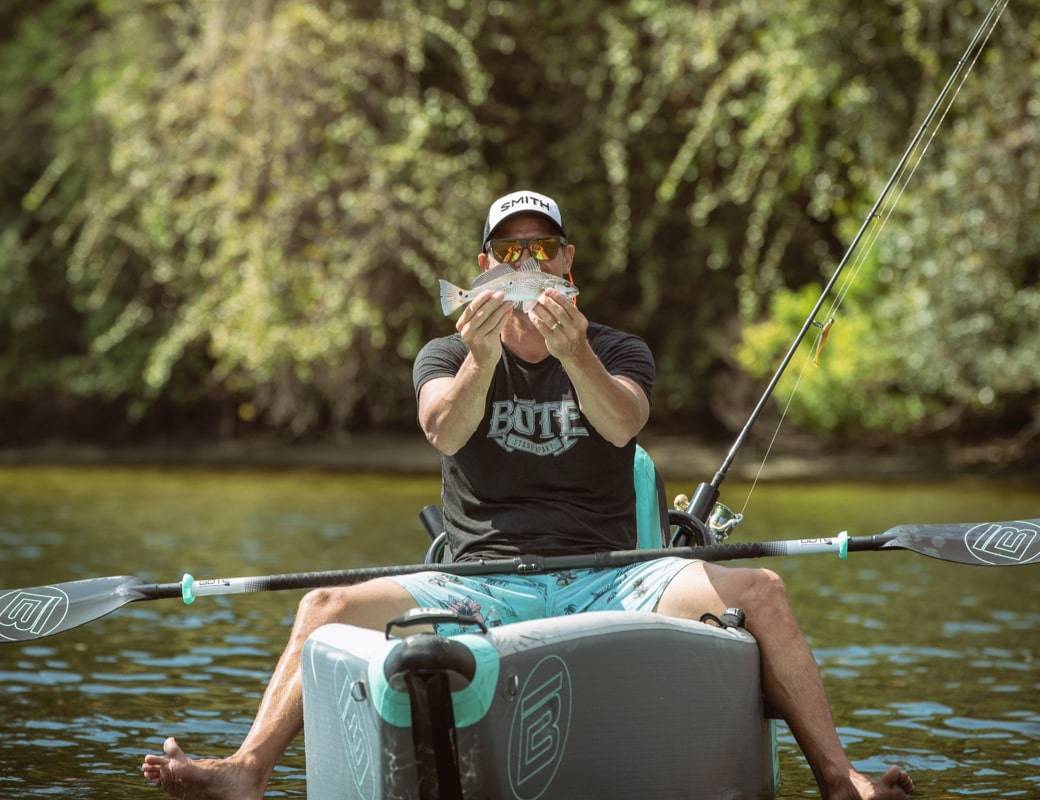 LONO Aero Inflatable Kayak // You're going to need a fishing platform and you just can't beat the experience of fishing on a LONO. It's the best of both worlds, combining SUP fishing and kayak fishing into one unique platform unrivaled in its ability to be customized to your lifestyle. And now, each LONO comes equipped with APEX Pedal Drive compatibility. So yeah, you have options.
"I'm a big guy, 6'3 and 265lb, and I can stand up and cast my fishing pole from the back or from the front of the kayak. I continue to spend countless hours on the lakes and rivers, what a great purchase. If you're thinking about it just go ahead and get it. You're gonna fall in love like the rest of us did. Thanks again, guys. This is an awesome kayak."

- Jason T., Verified LONO Buyer
Catch 'n Cook: Fishing Gear
Your KULA 5 is loaded down with your fresh catch and now it's time to make one hell of a dinner--but it couldn't be easier.
A campfire meal should always be simple and uncomplicated. One of our favorite recipes is a lemony fillet of trout with asparagus and new potatoes. These ingredients make for an ideal campfire meal because they all cook quickly and are perfectly seasoned with just a few basic ingredients.
TOOLS
Campfire grate

Lighter

Sharp fillet knife

Foil (optional)
INGREDIENTS
Filleted fish, skin on (Check out this '

How to Fillet Every Fish

' video)

Butter or oil

Lemon

Salt and pepper

Asparagus

New potatoes or fingerling potatoes

Plates and utensils
First, get your fire going and wait until your flames have died down and you have a nice pile of hot coals. Create some height between the fire and the grate with rocks--just an inch or two will do as long as your fire isn't blazing.
There are a few ways to cook fish on a campfire, but we're going to focus on two here that we've found to be the tastiest over the years.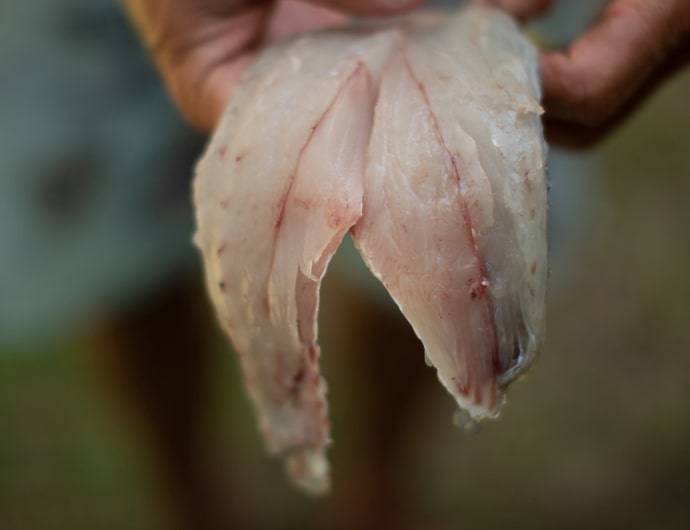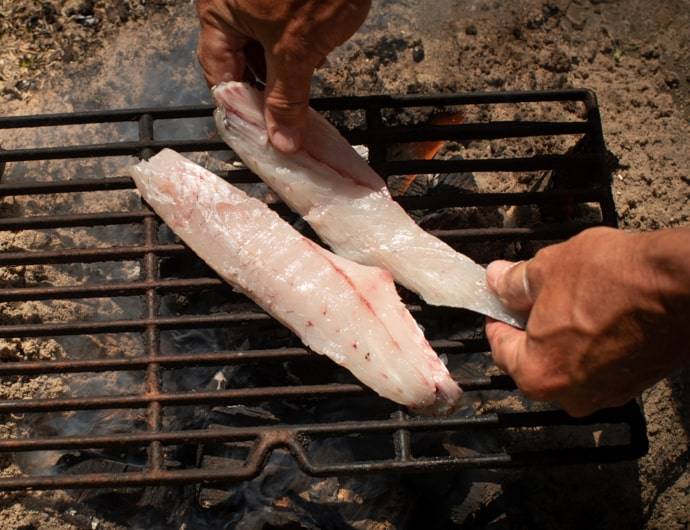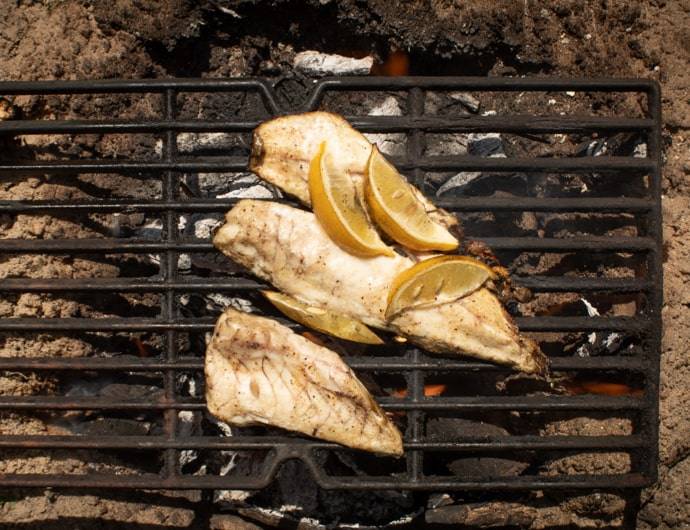 Option 1: Directly on the Grate
With the first option, your fillets need to be substantial enough to not fall between the grates. We prefer this approach as the smokey flavor infiltrates the fish, asparagus, and potatoes--it just doesn't get any better.
Season the fish with butter or oil on both sides, then salt and pepper the flesh side. Lay the fish skin side down on the grate. Throw a few lemon wedges on top for extra flavor. Cook until the flesh is white and flakey, using a fork to test it, then remove from the heat.

Repeat the process for the asparagus and the potatoes. If you're in a rush, cut the potatoes in half to hurry along the cooking process.

If you're cooking in batches, wrap cooked items in foil and keep near the fire or on the grate--just not in indirect heat.
Option 2: Foil Pouches
The second option is best for smaller fillets, but any size fillet will work. This approach essentially steams the fish and vegetables, which is equally tasty but decidedly less flavorful as the pouches won't absorb much smokiness from the campfire. It's possible to cook foil pouches without a grate via indirect heat, but the grate is a safety net we wouldn't recommend skipping.
To prepare individual foil pouches for each person, slice potatoes into ½ inch cubes.

Place 1-2 handfuls of potatoes at the bottom along with a several sprigs of asparagus. Toss with oil or butter, and salt and pepper to taste.

Place one large or two small fillets on top, and add a small amount of butter or oil, along with more salt and pepper.

Place pouches on the grate and cook 20-25 minutes until the fish, asparagus, and potatoes are cooked through.
Once everything is ready, hit the asparagus and fish with a squeeze of lemon and serve with extra lemon wedges if you have them. And that's it. So simple yet so good.
If you're planning a day on the water and want to wrap the day with an impressive catch 'n cook dinner, there's no reason you can't make that meal waterside. With minimal ingredients and a few basic tools, cooking a fish on a campfire is a surefire way to create an unforgettable experience.