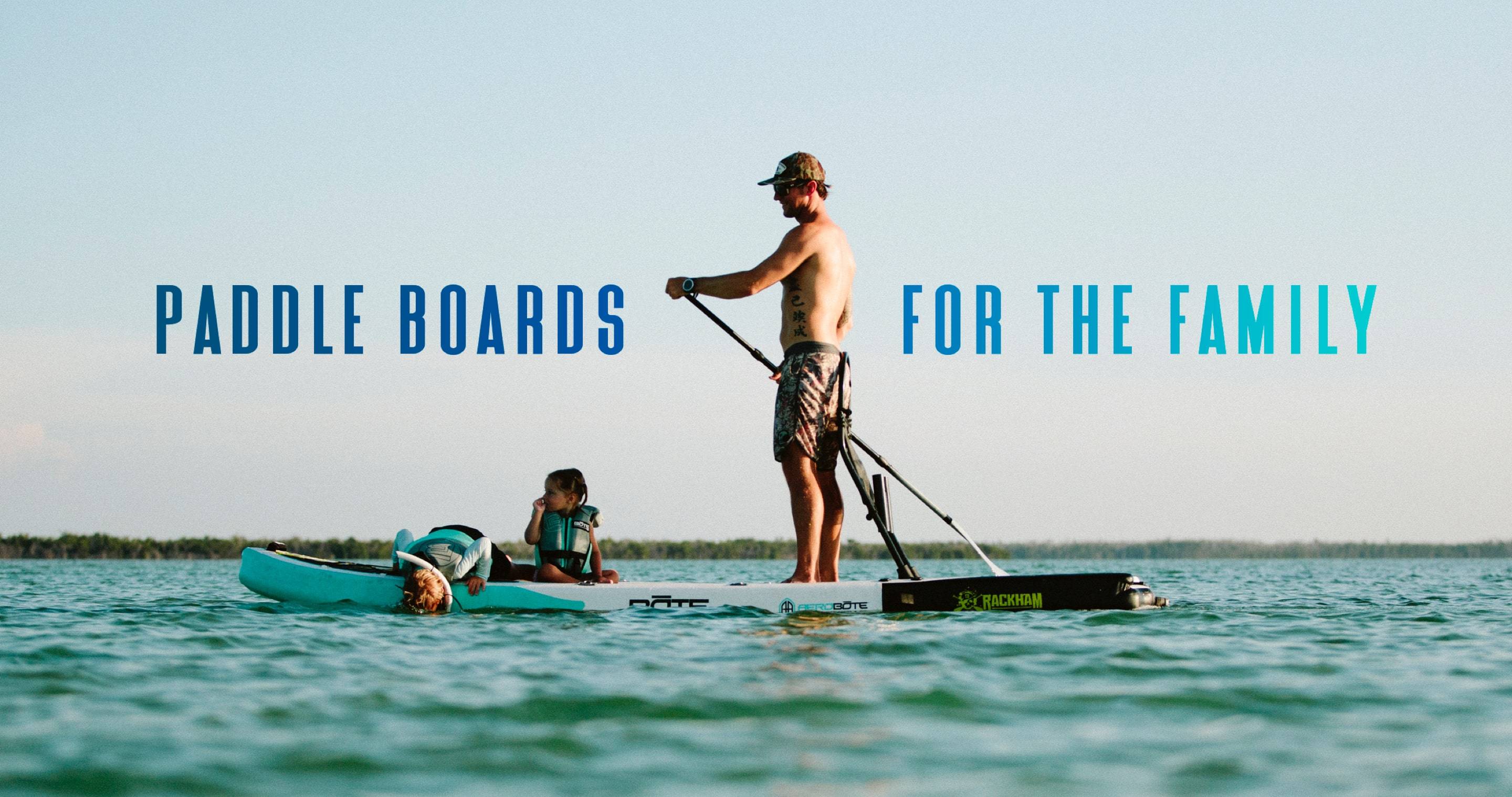 FAMILY PADDLE BOARDS
At BOTE, we believe a family that SUPs together has a kickass time together, and we've developed a fleet of boards that'll get you and your family out on the water for some quality bonding.
Whether you're the mom in charge of hauling all the snacks, the dad responsible for carting all the kids around, or an alternating combination of both, our family paddle boards can handle high weight capacities, store an obscene amount of stuff, and ride smooth as silk.
Looking to stock up the family with some SUP boards but aren't sure how to mix and match them for the optimal family outing? Look no further because we have the best family paddle boards to suit every family member.
BEST PADDLE BOARDS FOR MOM
Let's start with the foundation of your tribe - Mom. She does it all, and with couth. She's the silent (and, sometimes, not so silent) cheerleader of the family. There's pretty much nothing she can't do, so stand up paddle boarding with the family, even if she's never done it before, is easier to figure out than kindergarten pick-up line. Here are our best paddle boards for moms and why.
Breeze Aero Inflatable Paddle Board
The Breeze Aero comes in two sizes, 10'8" and 11'6", but the 10'8" will do the trick for most women unless they're on the tall side or planning to really load their board down with extra gear. The 10'8" Breeze Aero is also on the lighter side, weighing 26 lbs when in its travel bag and a feathery 20 lbs inflated, so you don't have to struggle to get your board down to the water, especially since it's TravelinkTM Carry Sling compatible. If you're a do-it-all kind of mom, the Breeze can be slung over your shoulder, giving you two free hands to carry extra stuff. The Breeze also sports patterns so slick your kid might actually start to think you're cool, like the Native Floral Jaws pattern that mixes tropical flowers with, you guessed it, sharks.
With a weight capacity of 250 lbs, you can consider this a beach companion that can handle more than its fair share of gear or passengers. The Breeze is super easy to paddle and supremely stable, thanks to its width. If you're a mom looking to pack it down with all the essentials - snacks, drybags, and everyone's flip-flops, the Breeze is the right choice. Not to mention, it's offered at a great price point.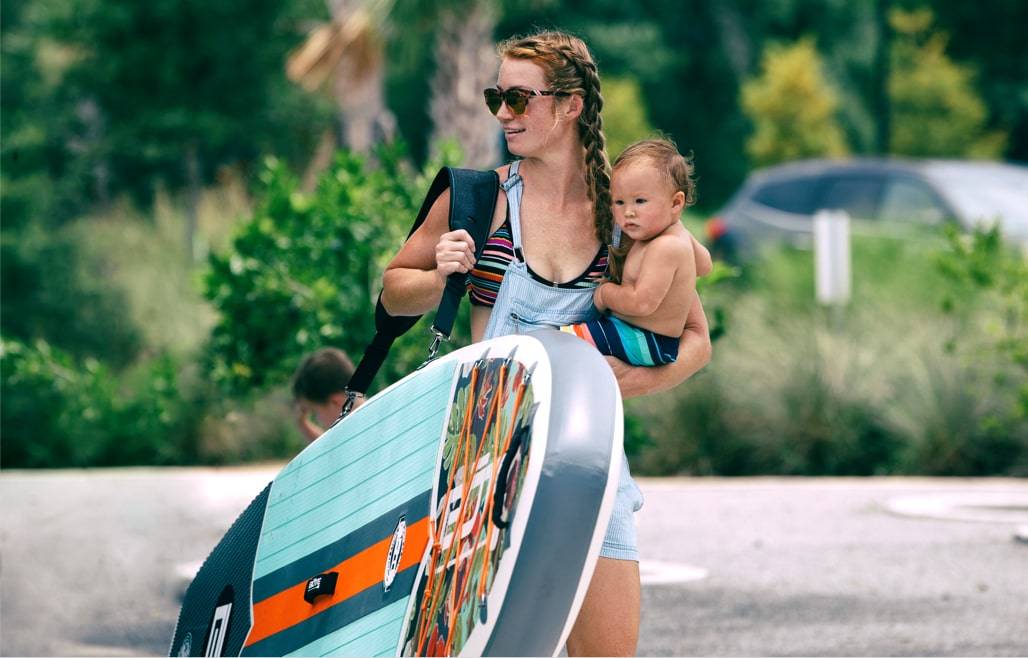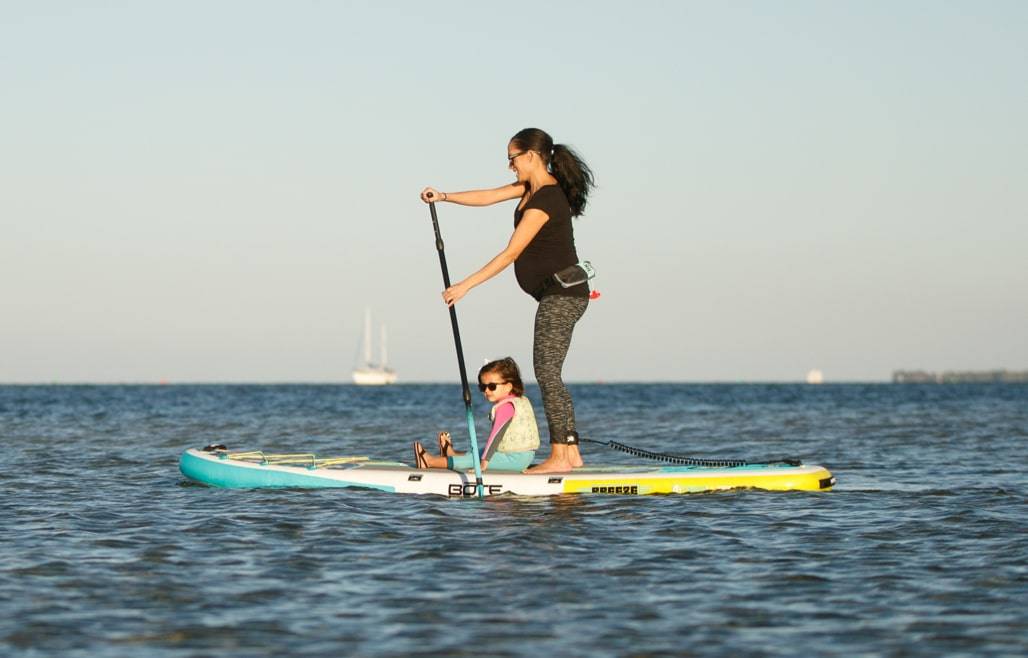 Flood Aero Inflatable Paddle Board
When you need a little more oomph, the Flood Aero clocks in at 11' long and 28 lbs inflated, giving you a weight capacity of 275 lbs. This makes it great for carrying not just the snacks and essentials in its bungee cord system on either end of the board, but a kid can hop on the front and coast with you while you get your stroke on. And if you want to forgo the kid, just know the Flood is now MAGNEPOD compatible, so snap on our MAGNETumbler with beverage of choice and enjoy some peace and quiet for a change.
The Flood has an entry rocker hull and thick rails, making it super stable even when a kid adds to the rocking.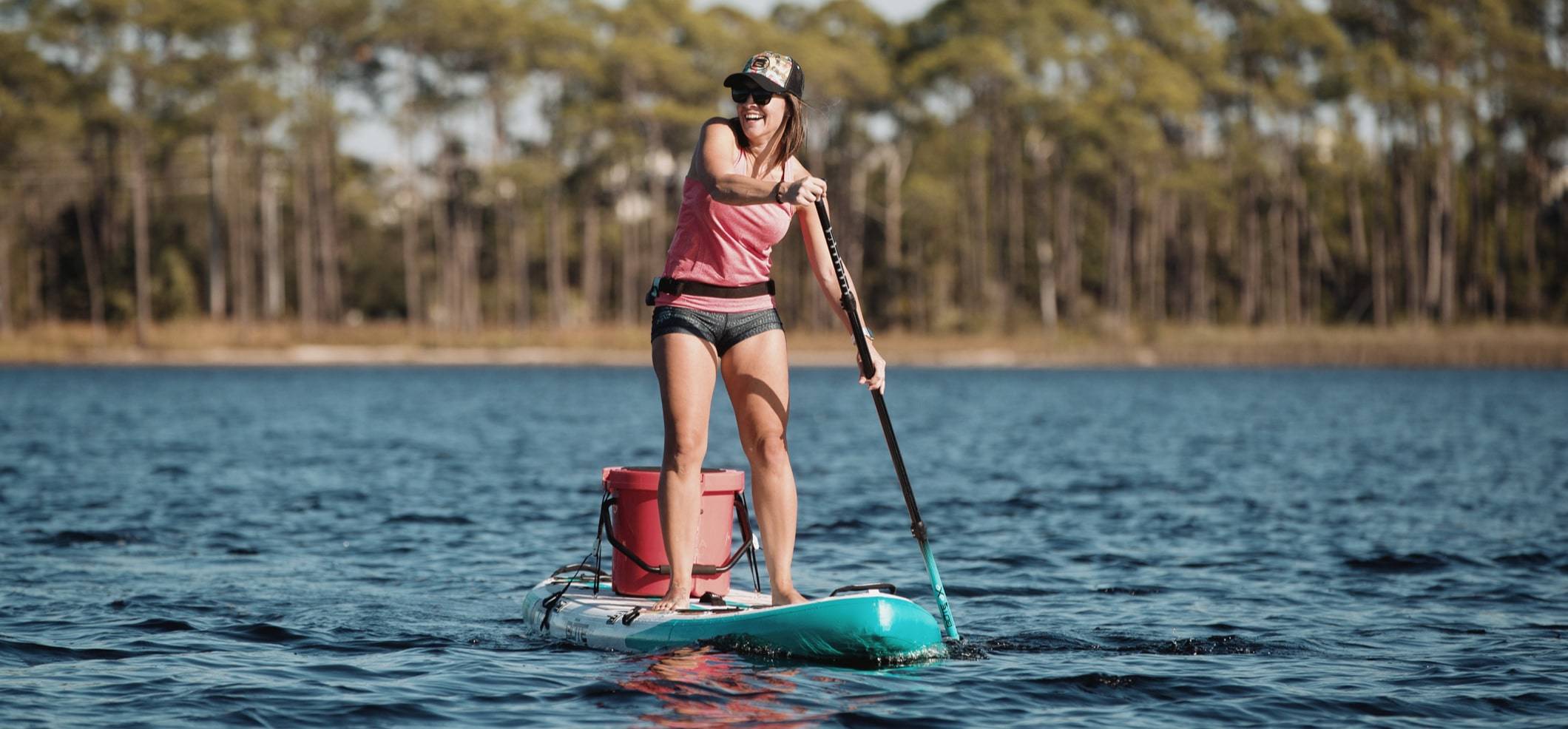 BEST PADDLE BOARDS FOR Dad
As a rite of passage, dads typically get the task of doing the tough stuff. Killing spiders, opening jars, getting that thing (whatever it is) from the top shelf. So when it comes to stand up paddle boarding as a family, they're likely to be the ones carrying the boards to the water, getting them set up, and launching the family out to sea, river, or lake with a 'hope for the best' kind of attitude. We have a SUP board for that. Actually, two boards.
HD Paddle Board
The HD Paddle Board, in both the Aero Inflatable and Gatorshell construction, is a hard-working board for the hard-working dads cruising on them. And whether you choose the inflatable for ease of portability or the Gatorshell for grab-and-go use, they both can be packed down to the max and ready for any waterway.
The HD Aero is 30 lbs inflated and 11'6" long with a weight capacity of 315 lbs. This translates to: you can fit a lot of kids on that SUP board. The HD Gatorshell is similar, with options in 10'6" and 12' and a little more weight at 38 lbs and 45 lbs respectively; the 12' version can pack on up to 315 lbs of kids, accessories, and everything else. It's no surprise it's our best-selling SUP board. Built for taking on any waterway and tough enough to endure copious amounts of snacks and juice boxes (all perfectly packed in a secure KULA cooler), the HD is essentially the dad-mobile of SUPs.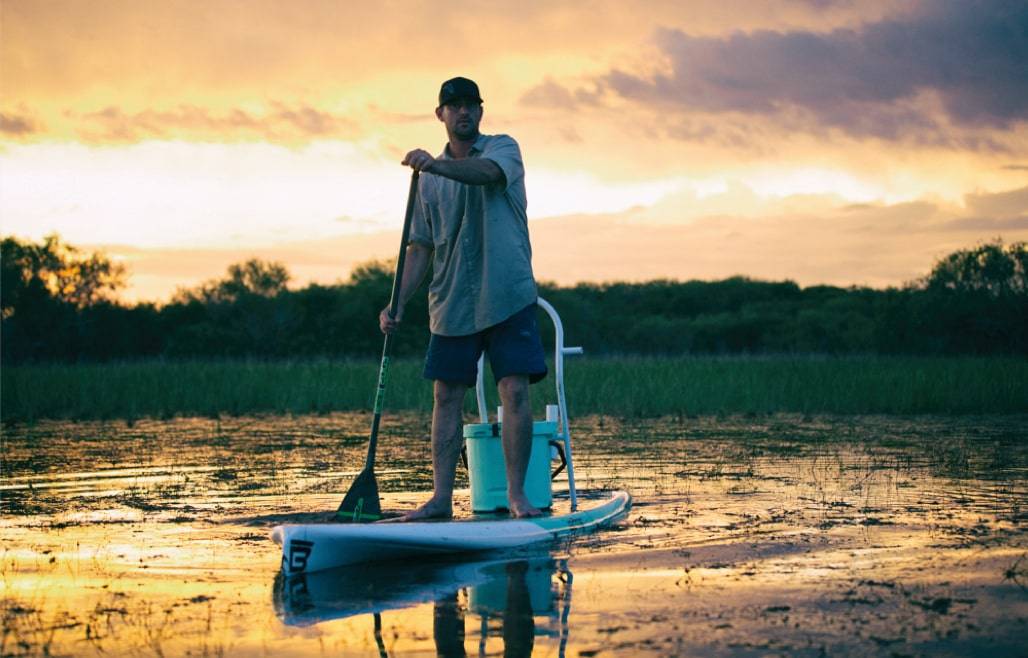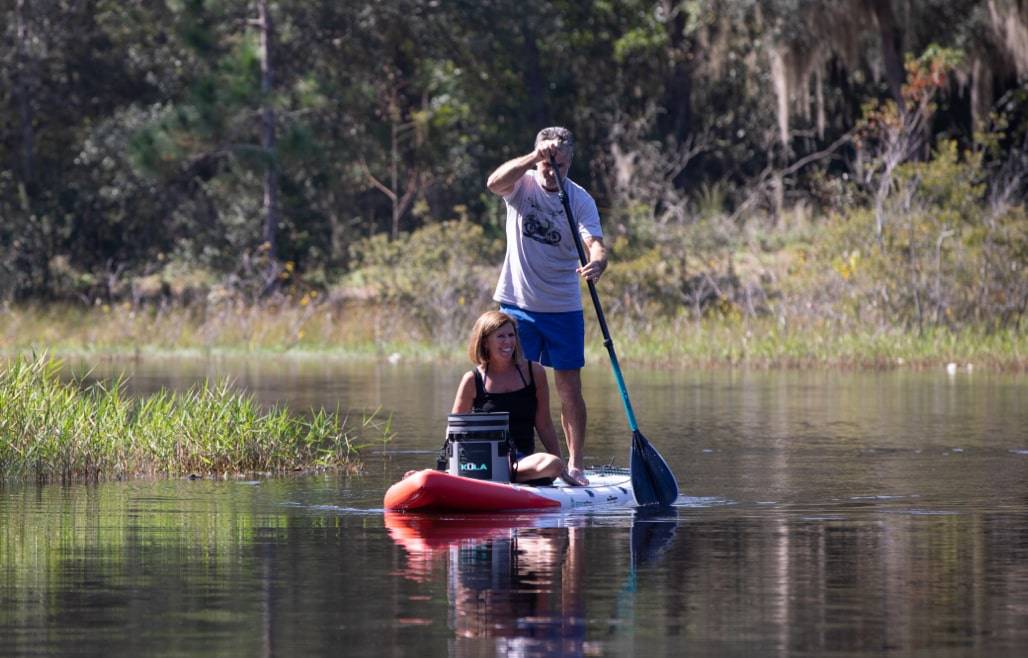 Rackham Aero Inflatable Paddle Board
Big family? Big dad? Just need a little more? The Rackham Aero is 45 lbs and 12'4" of stealth, rigor, and functionality. With a weight capacity of 400 lbs, the Rackham is one of our biggest load-bearing boards in the lineup. Try tossing all three kiddos onto the Rackham and paddle your way to a sand bar for some family fun.
If you're a dad that loves all the bells and whistles, the Rackham is our most feature-rich board. Take this board on weekend camping trips with the family, and it's large enough and comfortable enough to spend most of your day on the river. Its two-chamber design gives it a 38" base for maximum surface area, making this pretty much a game-changer board for the family.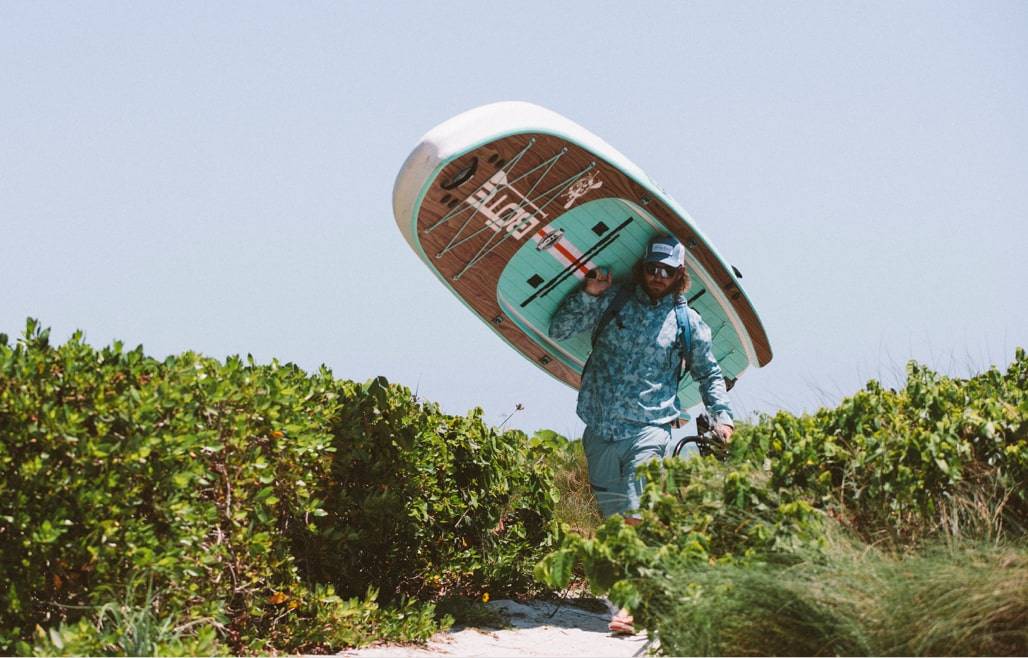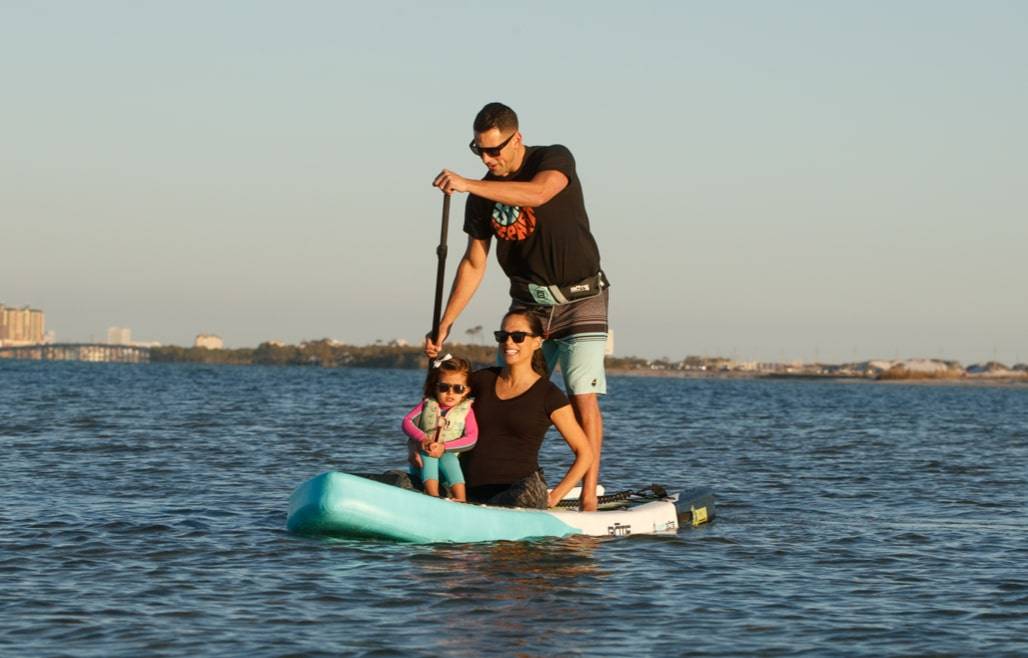 BEST PADDLE BOARDS FOR Kids
When your little ones want water wings of their own, give them a platform they can manage themselves.
Flow Aero Inflatable Paddle Board
The Flow Aero is our answer to a growing family. When your oldest is ready to stop hitchhiking on your board but can't manage an adult SUP yet, the Flow is 8' long and 17 lbs light, giving them a challenge worth overcoming.
It's easy to make it a family event when they're so young they don't quite have a choice, but keep them interested in the SUP lifestyle with the freedom of the Flow. Equipped with its own backpack, pump, and adjustable SUP paddle, they'll feel like a pro (and a badass) with this board.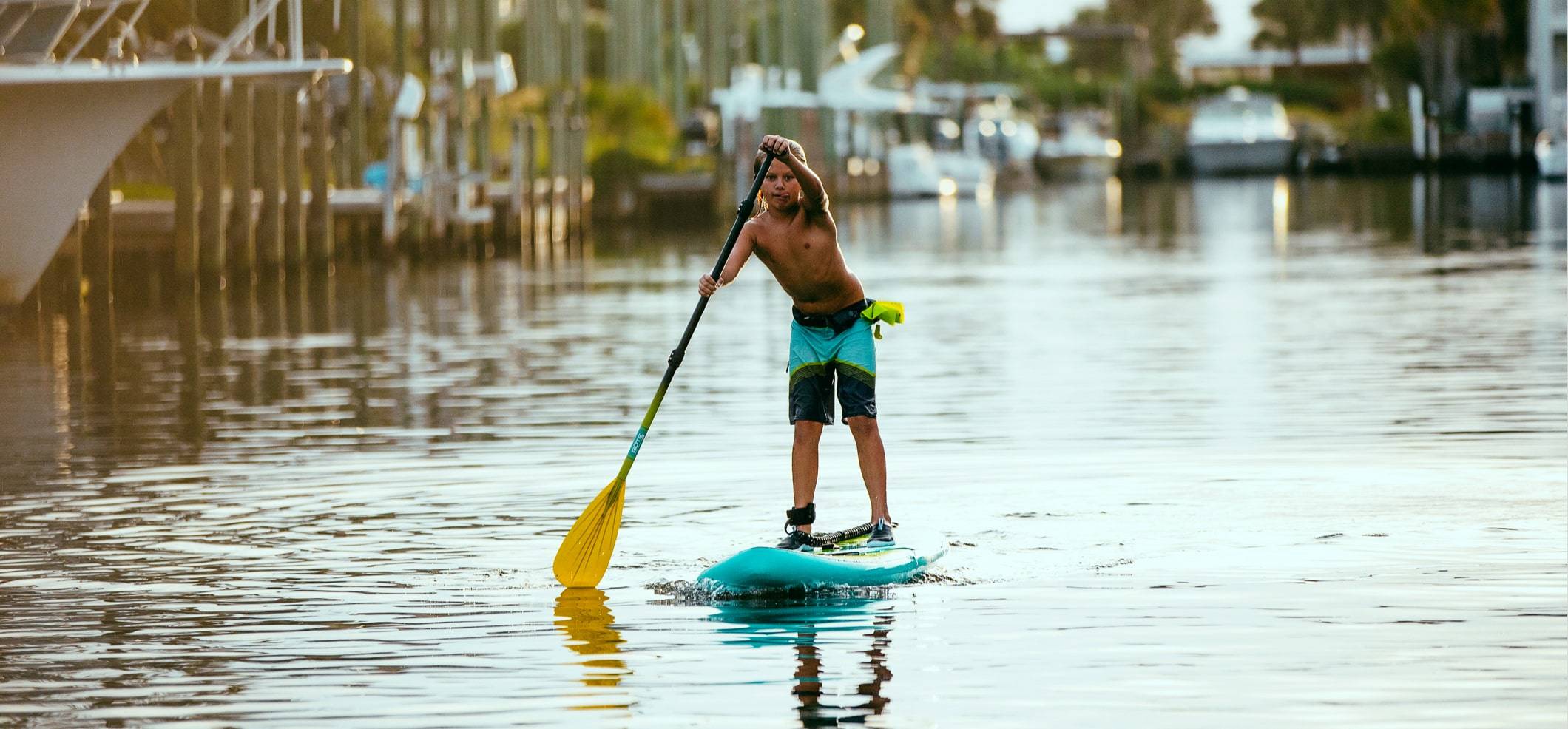 Ready to make stand up paddle boarding a tradition to carry through the family? Check out all our family-friendly products and get SUPing today.