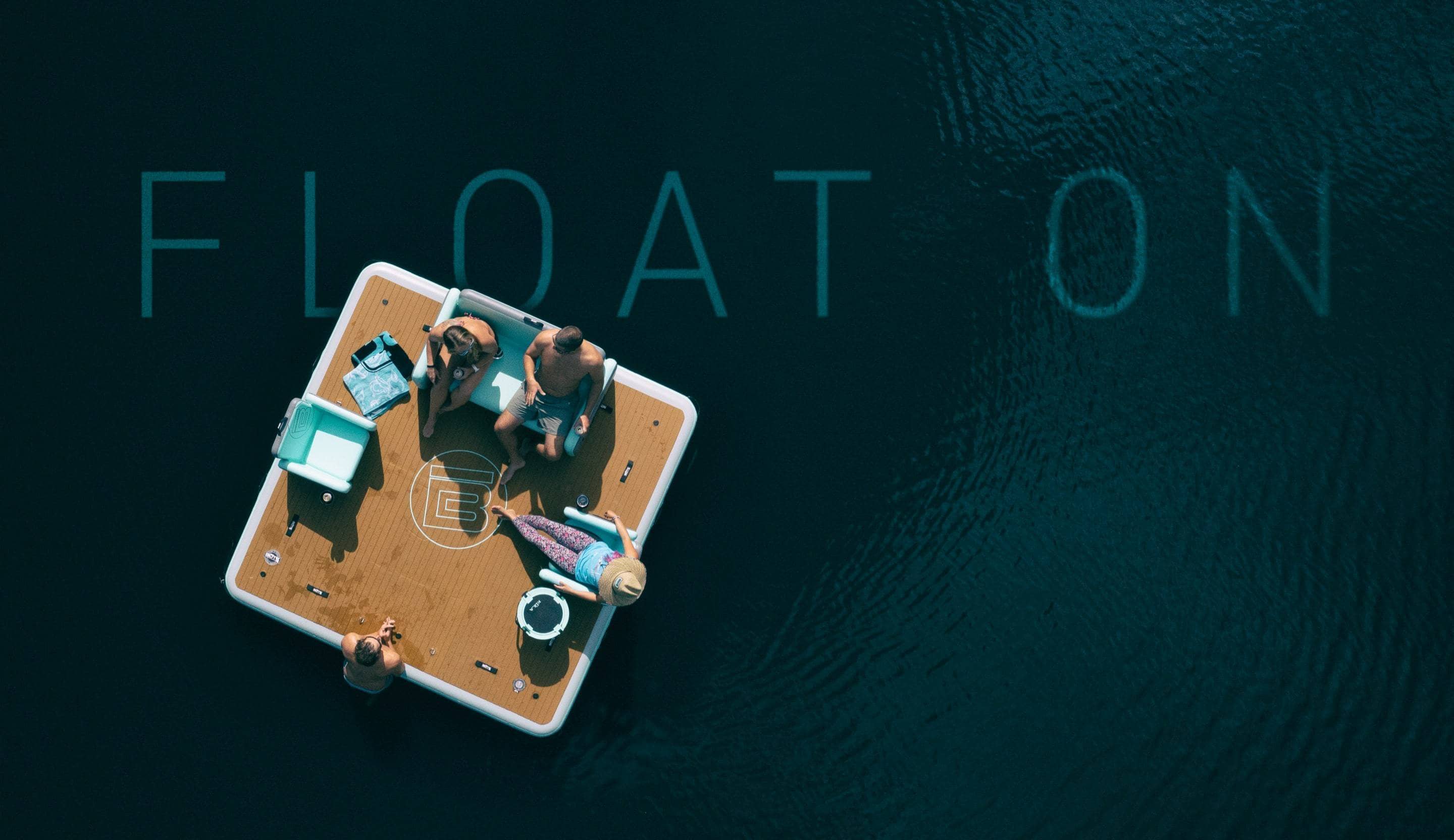 BOTE Docks // Your Floating Oasis
Sometimes it's the simplest things that can be the most head-scratching. Like burritos (how are those so freaking good?) and saltwater (how does it cure literally everything?).
The Dock 10 is no different. On the surface, it just looks like a floating square. But it is so, sooo much more. This inflatable floating dock is a homebase and a launchpad for adventure. It's a personal private island, a melting pot for family and friends, a bona fide hub for hanging out on any body of water.
The hardest decision surrounding the Dock 10 isn't whether or not you should get one; it's figuring out all the dozens of crazy-creative ways you can use it. Outdoor yoga platform? Check. Camping station on the water? Double check. Guaranteed new way to meet people and make friends? You better believe you'll be swarmed by more than a few envious water lovers wondering where on earth you got this irresistible floating masterpiece.
So, however you use the Dock 10, it pays to have your creative cap on. Because this simple yet stellar platform is about to revolutionize the way you get on the water. And we're here to help with a handful of tried and true ways to level up your days on the water with (you guessed it) an inflatable floating dock.  
Tech Specs & Features: The Dock 10
Before getting into all the creative ways to use the Dock 10, let's take a quick dive into the details.
This all-in-one swim platform and inflatable floating dock is the most portable, versatile, and stable swim platform on the market. Made from military-grade PVC skin with a slip-resistant deck, the Dock 10 increases your real estate on the water without compromising storage space at home. And given the 100-square-feet of surface area and 1,500 lbs of carrying capacity, if you ever feel the need to trade in your family for a squad full of NFL offensive lineman, that option is firmly on the table.
With AeroBOTE Technology™, the Dock 10 is also more stable than a surgeon's hand and more rigid than a piece of Civil War hardtack. So, go ahead: bump it against some rocks, sling it against a stationary wooden dock, scrape it along a sandbar. The Dock 10 thrives under pressure.
Another must-mention about the Dock 10 is its supreme compatibility with a variety of other BOTE products—all of which are designed to level up your water experience. For ease of setup, the AeroPump takes the "manual" out of "manual labor." Simply attach the high-pressure pump to the inflation and deflation port, and let this bad boy go to work—your dock will be rock solid in no time. Snagging a couple of Inflatable Aero Chairs to add some thrones to your floating kingdom is always a wise idea. And of course, no Dock 10 setup is complete without a KULA 5 Cooler stocked full of all your favorite water-day beverages.
5 Ways to Use an Inflatable Floating Dock (a.k.a. the Dock 10)
If you're the kind of water lover that likes to think outside the dock, the Dock 10 is a highly versatile adventure play toy with endless creative potential. Here are a handful of our favorites.
Floating Camping Station
With 100 feet of deck space, the Dock 10 is about as large as your typical campsite platform. So, why not—you know—go ahead and turn it into a camping platform? Whether you're logging serious miles with your Rackham and need a "home base" to return to, or simply floating around the flats on a fishing trip and hoping to get the earliest of possible starts in the morning, the Dock 10 doesn't discriminate on what kind of camper you are. Just so long as you have a tent, you'll have an unforgettable night beneath the stars. Find some shallows and use your Sandspear to anchor you in. Strap your boards to the side of the Dock10 and catch the best zzz's of your life.
Family and Friend Hangouts
Here's the thing: The Dock 10 will 100%, no doubt about it, attract a crowd (and a few onlookers). You whip one of these bad boys out on a lake day or sandbar hangout with your buddies, and like moths to a flame, your friends and family (and probably a handful of boatersby) will come swimming.
Just ask Jim S. who left us this awesome product review:
---
"We bought the 10x10 dock to take with us on a trip to Lake Tahoe. We were able to put a cooler and 6 adults on the dock, float it out a bit and have a great time. The kids loved jumping off the dock and even took naps on it to warm up from the cold Tahoe water. Only downside was everyone coming up asking where to buy one!"
---
A Puppy (and Kid) Launchpad
For dogs everywhere, the Dock 10 is the best thing to happen since tennis balls. Whether you've got a pup named Geronimo whose sole mission in life is to leap off ledges into the water, or a timid terrier who you know loves water but sometimes needs a little gentle goading, the Dock 10 caters to dogs of all breeds (and personalities). And when they're too wiped out from doggy-paddling, simply pop 'em on top of the Dock and watch them smile the slobberiest, most dopey doggy smile of all time. (Oh, and for your human pups? They'll be just as obsessed.)
A River Float Fortress
Next time you and your buddies decide to take a lazy-day river float trip, forgo the flimsy old innertube you get at a gas station. The Dock 10 can easily handle gentle currents and river float itineraries. So, forget getting separated from your friends on the first section of choppy water, and stay together on the Dock.
The Ultimate Pool Toy
Pool noodles, be gone. There's a new pool sheriff in town. Okay true—we typically like promoting activities and lifestyles in the great outdoors. But if you've got access to a pool, by all means, give the Dock 10 a floating home. Use it for an outdoor yoga session or even a personal workout platform; it's rigid enough to handle it all.
Hangout in a Hammock
If you've got a lightweight hammock and hammock stand—from the likes of brands like Eno or Kammock or Yellow Leaf—you can easily ramp up the Dock's relaxation station with a swinging setup.
In short, the Dock 10 is simple. What you see is what you get. But what you get—well—it's so much more than you could ever imagine.