Introducing the Zeppelin Aero 10′
It's hard to believe that just a few years ago, AeroBOTE constructed kayaks were a topic of interest for The DarkRoom's R&D team—not quite fully fleshed out. As with all new ideas, we would only introduce new products to the market that were innovative and industry-leading.
What did the market need? Durable, functional, and portable inflatable kayaks.
First, we started with the DEUS Aero Inflatable Kayak, a sit-on-top kayak and a stand up paddle board in one—a hybrid, if you will. Then we leaned into kayak fishing with the LONO Aero Inflatable Kayak, known widely as 'The Ultimate Kayak Fishing Machine'. And then, for the recreationalist, the Zeppelin Aero 12′6″ Inflatable Kayak, a multi-paddler capable vessel ideal for tandem adventures.
As our line up of inflatable kayaks continued to grow, we identified the need for an entry level kayak—designed for first timers, smaller kayakers, recreationalists, and experts alike. A need for a vessel that's fundamentally stable and easy to use, and that has the versatility to be scaled up and decked out.
We give you the Zeppelin Aero 10′ Inflatable Kayak, the newest addition to our inflatable kayak fleet at our most approachable price point.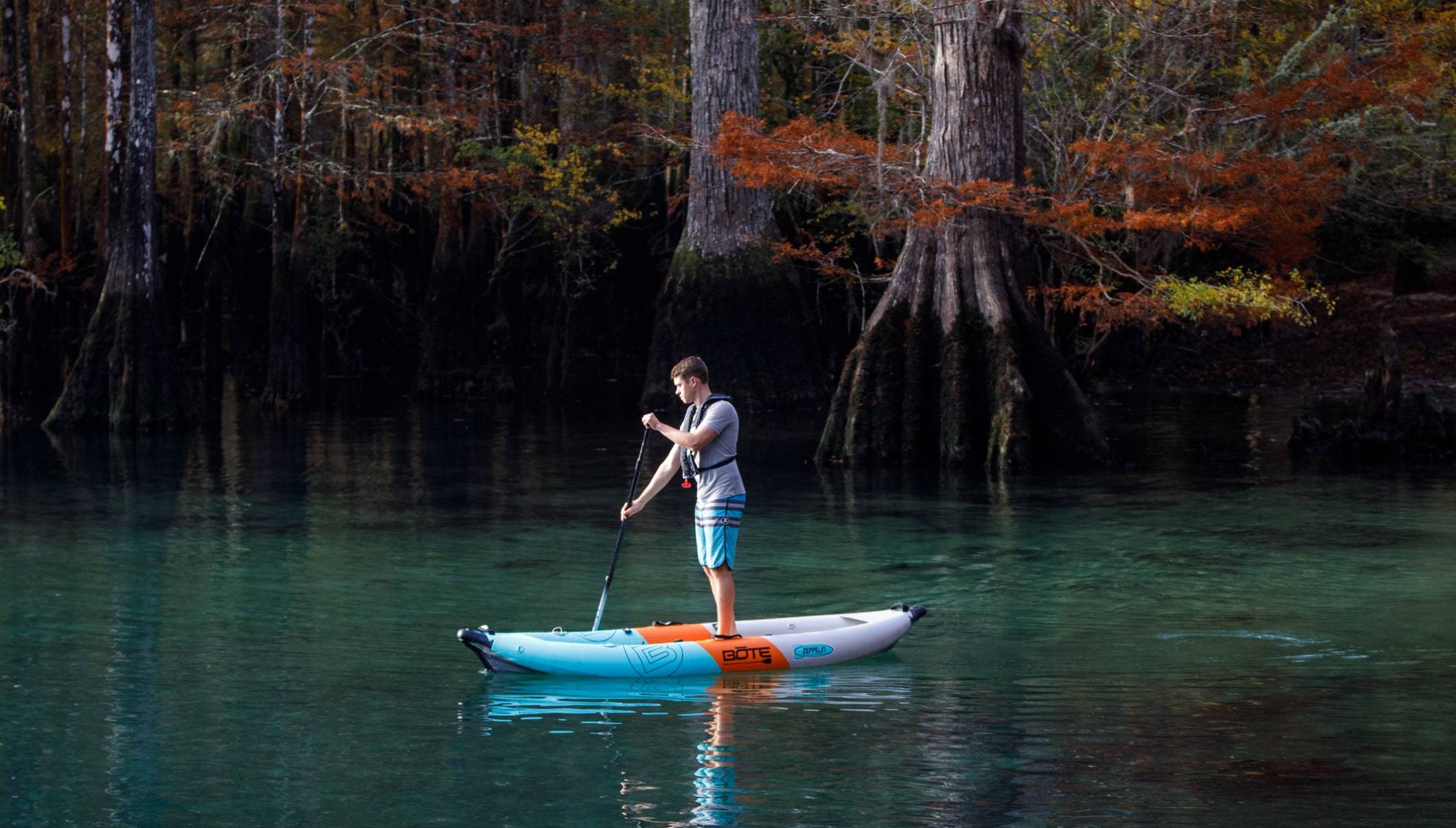 Just like its big brother, the Zeppelin Aero 12′6″ Inflatable Kayak, the new Zeppelin Aero 10′ Inflatable Kayak is stable, easy to use, and keeps you high and dry above the water—making it an excellent choice for a recreational kayak. Now offered in a more compact size that's both lightweight and durable, the Zeppelin Aero 10′ is the perfect entry level kayak.
Great for beginners and seasoned pros alike, the Zeppelin Aero 10′ is our newest inflatable kayak that's big on features and small on size. The latest addition to our line up of expandable platforms clocks in at 10′ long, 38″ wide, and 10″ deep. That translates to a small enough footprint for maximum maneuverability without eliminating the space you need to bring along the essentials. Not to mention, it fits into a backpack-style carrying bag to make transportation easy.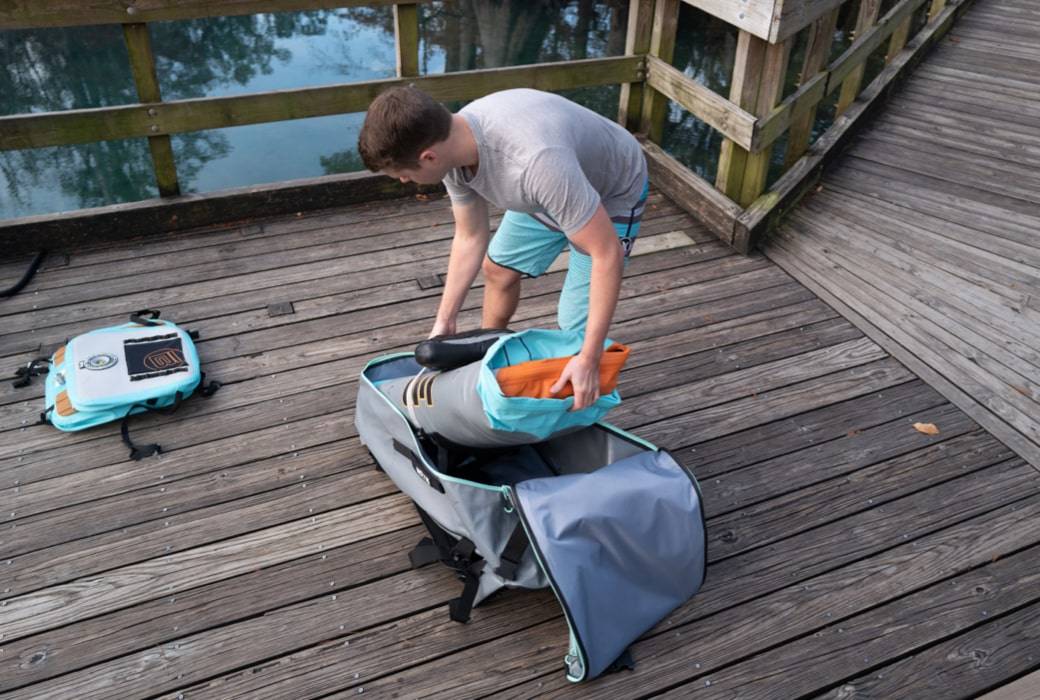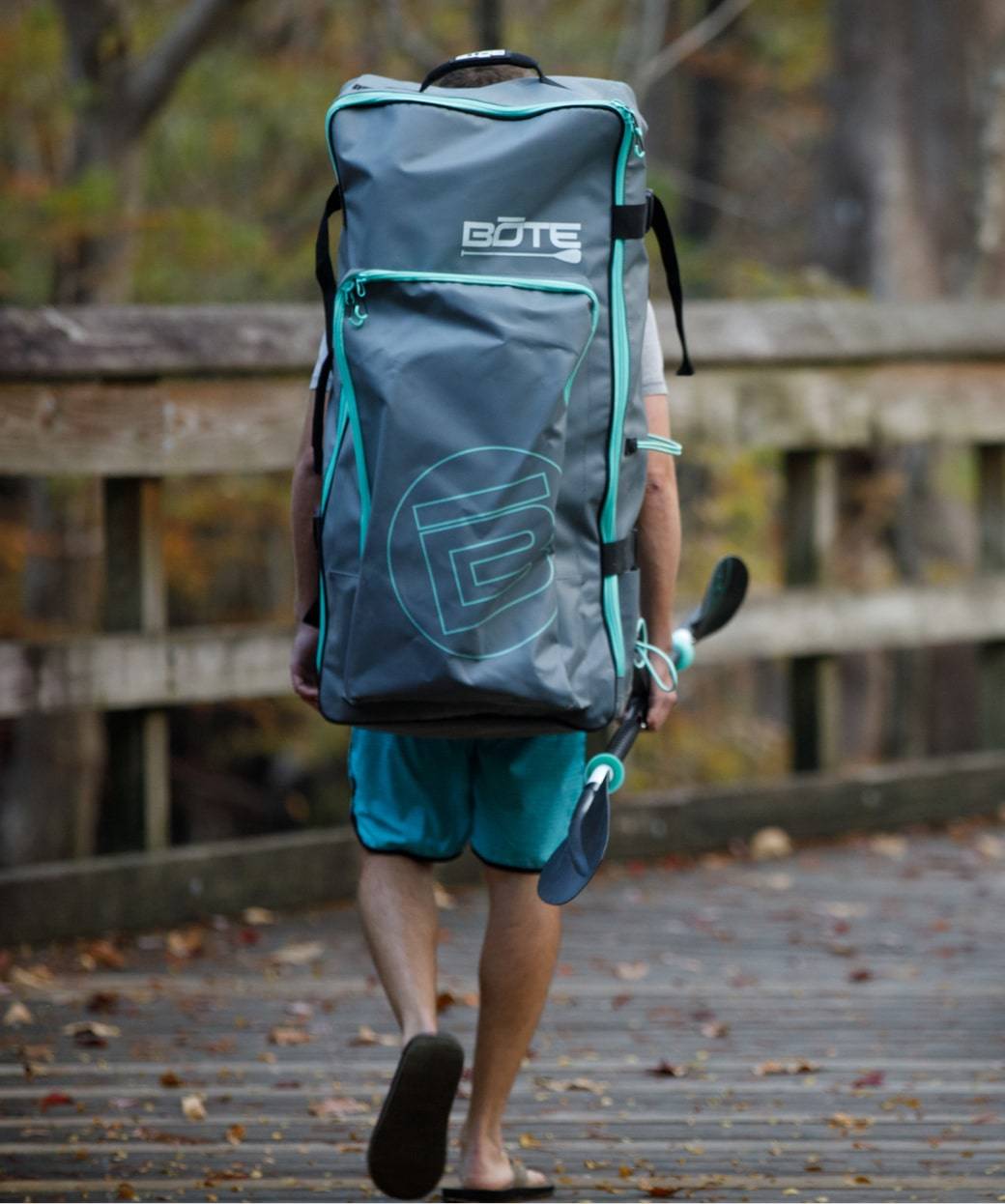 AeroBOTE technology means you don't have to compromise durability for packability. The construction of the Zeppelin Aero 10′ includes our signature AeroBOTE technology, made from military grade PVC and dropstitch construction so it's tough as nails when inflated and packs down into an extra small footprint (the size of a travel bag). 
We've also incorporated a BVA multi-textured deck pad throughout the self draining cockpit that sheds water seamlessly and provides anti-slip traction as well as extra cushioning to prevent fatigue. Plus, our redesigned grab handles are more comfortable than ever and provide better leverage as you transport your fully inflated kayak from land to water and back again.
We love an integrated system, and the new Zeppelin Aero 10′ Inflatable Kayak is no exception. We've outfitted the Zeppelin Aero 10′ with the same features you know and love from the original Zeppelin Aero 12′6″ including bungees, cooler tie downs, Rac Receivers, the MAGNEPOD™ magnetic drinkware retention system, accessory attachment points, and velcro travel straps. Yep, all the same features (minus the tandem seating compatibility) and all in a compact footprint.
The Rac Receivers behind the seat are ideally placed so you can fit a Bucket Rac and KULA cooler to store bait, rods, or beer, and MAGNEPOD™ compatibility means your drink is safe and secure while out on the water.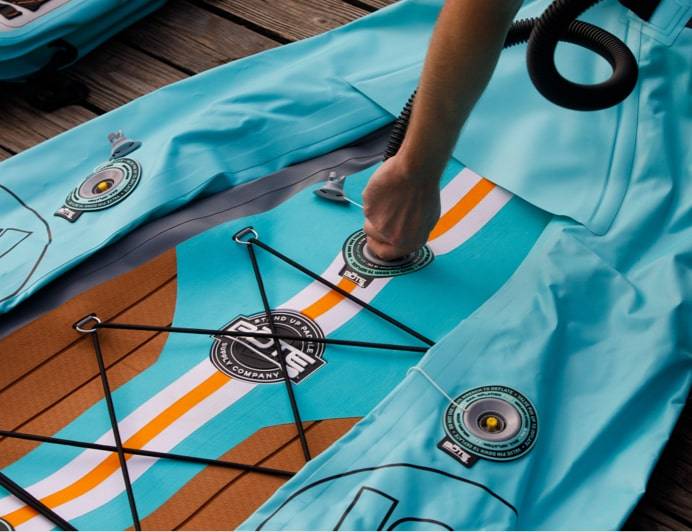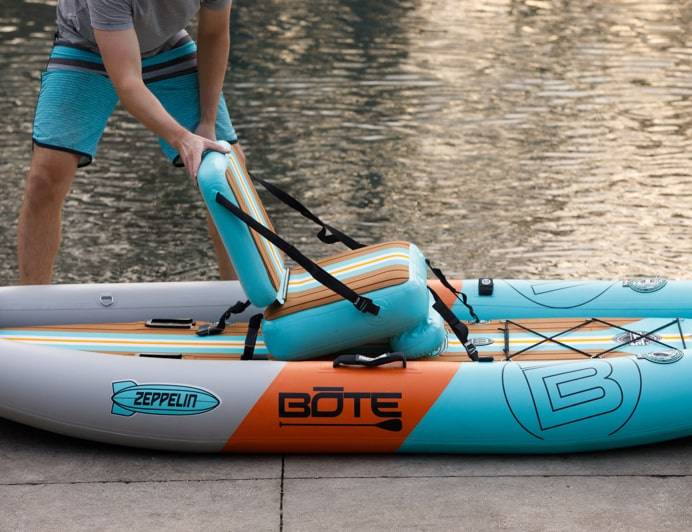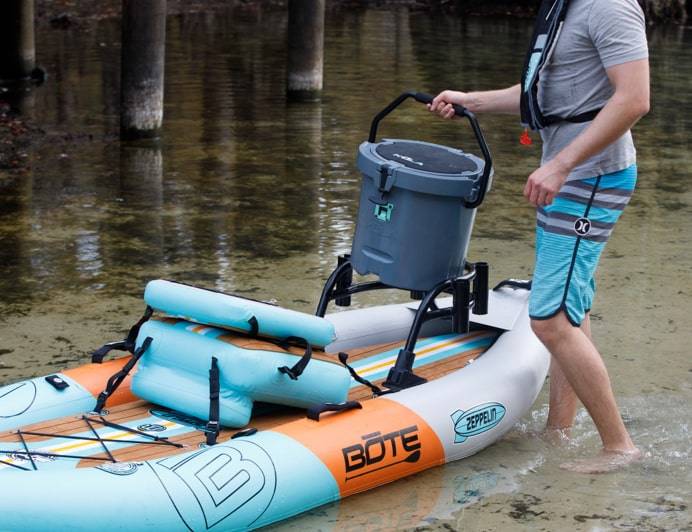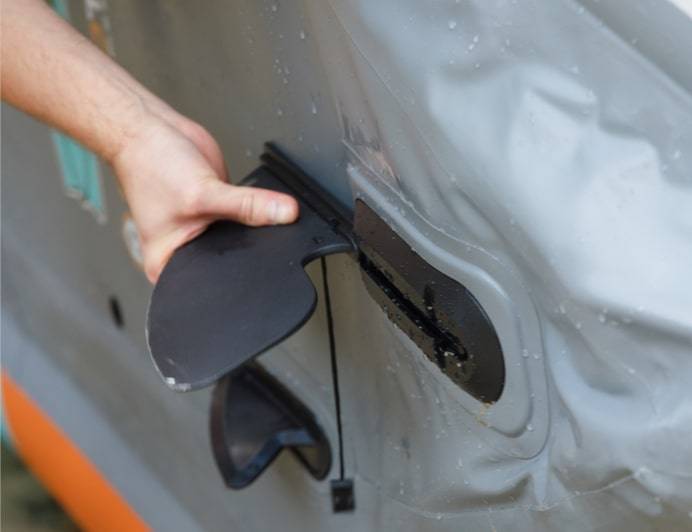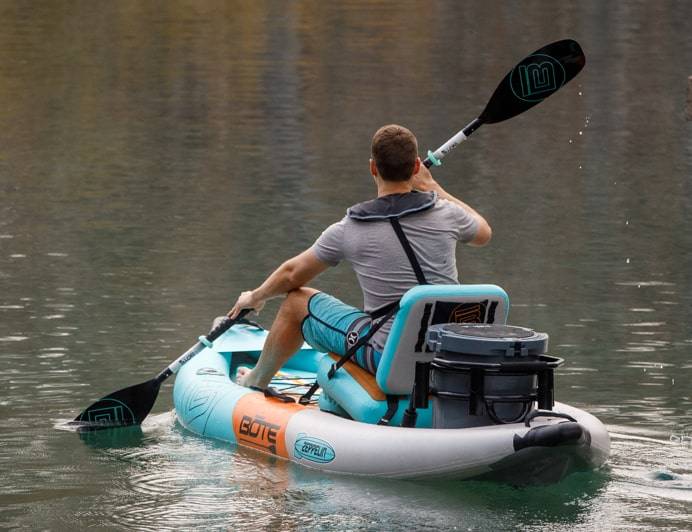 BONUS: The inflate and deflate valves are compatible with high pressure pumps. So while you can use the provided hand pump (and should always keep it on hand), you have the option to invest in an AeroPump Auto Electric Pump for faster inflate/deflate times when it counts.
The Zeppelin Aero 10′ Inflatable Kayak comes with all the essentials to get out on the water from day one. This includes the kayak (of course), a 6″ center fin, an Aero Paddle Seat, a pair of Slide-In Aero Rac Receivers, an Aero Repair Kit, a hand pump, and a backpack-style travel bag. With a capacity of up to 300 lbs and the ability to pack down into a travel bag (clocking in at 46 lbs fully loaded), the Zeppelin Aero 10′ was designed to go wherever you go and bring your gear along for the ride.
Whether you're getting started with kayaking, like to spend your weekends roaming creeks and lakes, or you just need a vessel to get to a sandbar to kick back and relax, the Zeppelin Aero 10′ was built for you.
Needless to say, we're all pretty fired up about it.
"Isn't this little thing awesome? I think it's my favorite thing we've ever made. Light. Compact. Good looking. Fun. I mean, what more do you need? The Zeppelin Aero 10′ might be small, but it packs a punch and brings all the features."
- Corey Cooper, BOTE CEO and Co-Founder