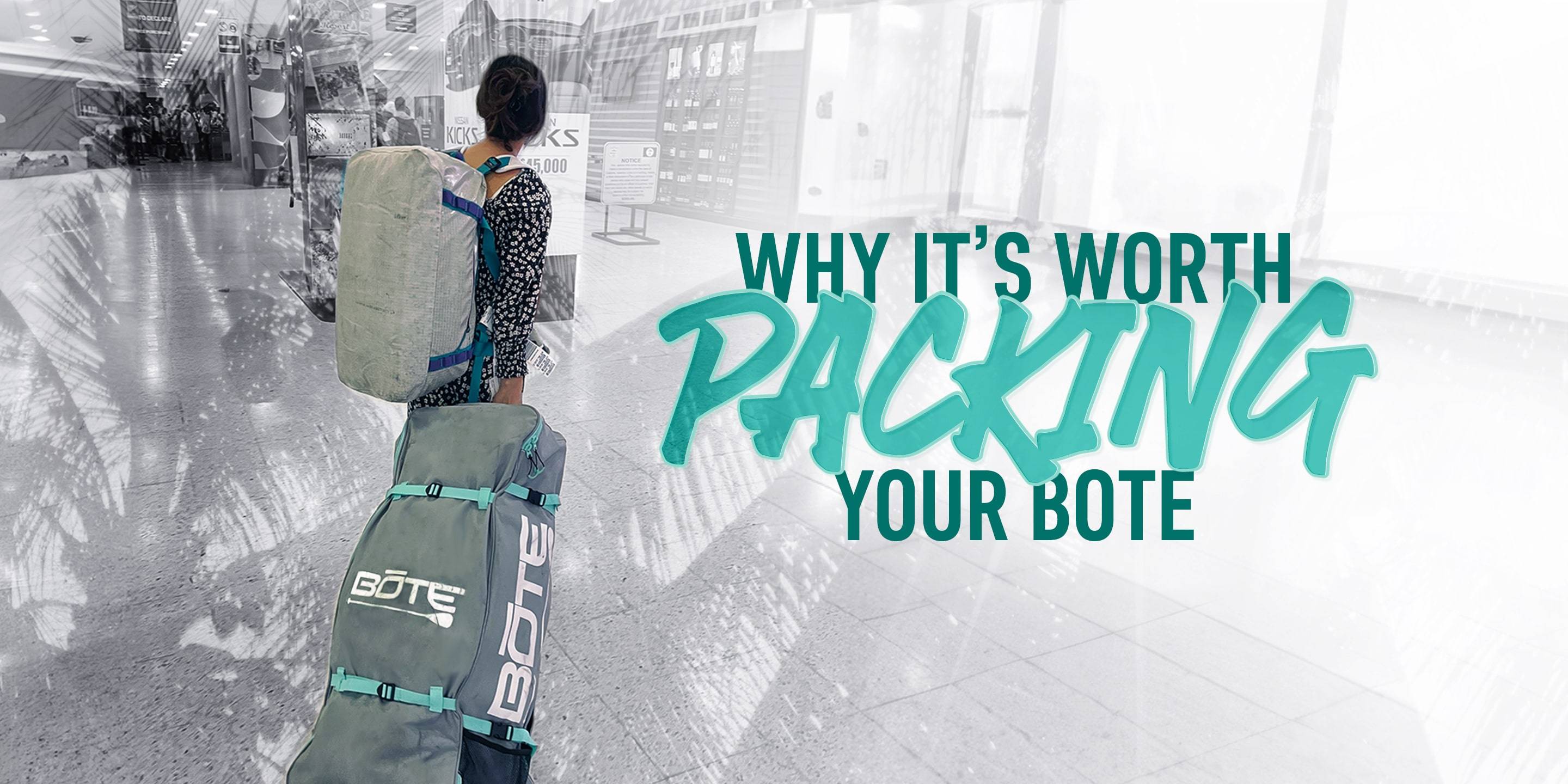 why it's worth packing your bote
Don't take it from us, take it from a BOTE user just like you. Read on as BOTE customer Mike Smith shares his experience of flying and traveling with inflatable paddle boards on a recent trip to Central America.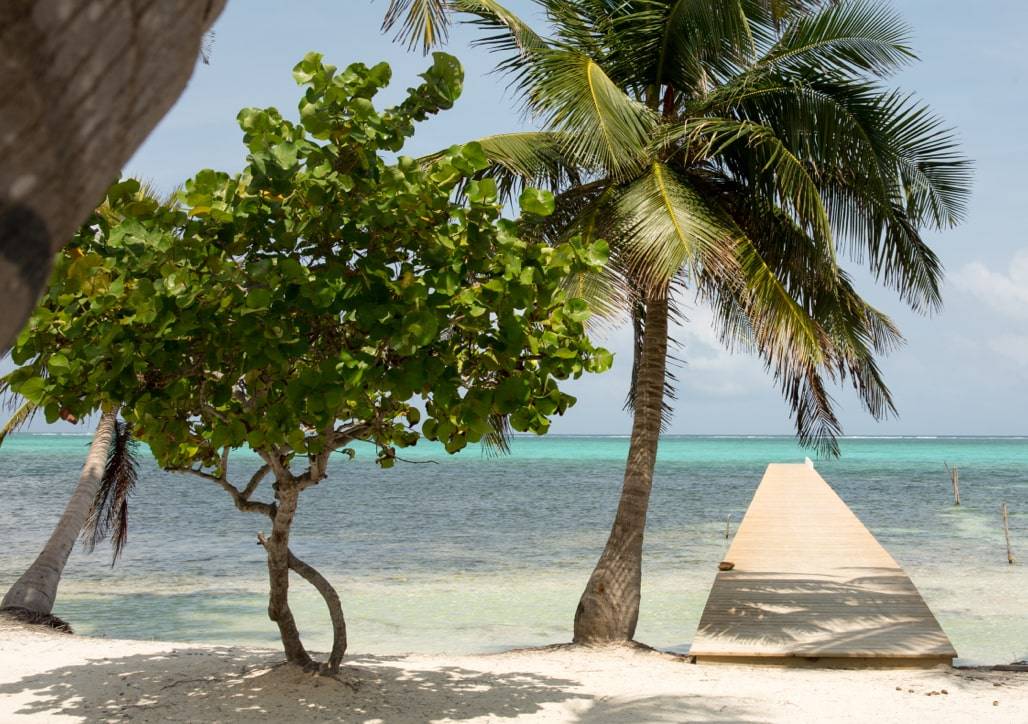 Last summer I got a phone call from a friend around 8pm that went something like this:
"Hey. I got an email today that there's a flash sale on flights from Houston to Belize. The sale ends at midnight tonight. I want to go down for a week and rent a house and chill by the pool and do water stuff. Are you coming or what?"
An hour later we bought flights, and four weeks after that our group was on a direct flight to Belize City.
I'd been to Belize a couple years before, and I remembered how many beautiful bonefish flats were inaccessible on foot. We had to bring the inflatable boards. Of the 6 of us on the trip, 4 of us had inflatable BOTE boards, 2 were anglers and 2 weren't.
Having never flown with a paddle board, I was nervous about how well they would travel, but I was motivated by the mental image of bonefish happily tailing through the turtle grass on undisturbed flats. My non-angling companions were determined too – by the promise of experiencing beautiful water, seeing brightly colored fish, and watching the sunset on the horizon.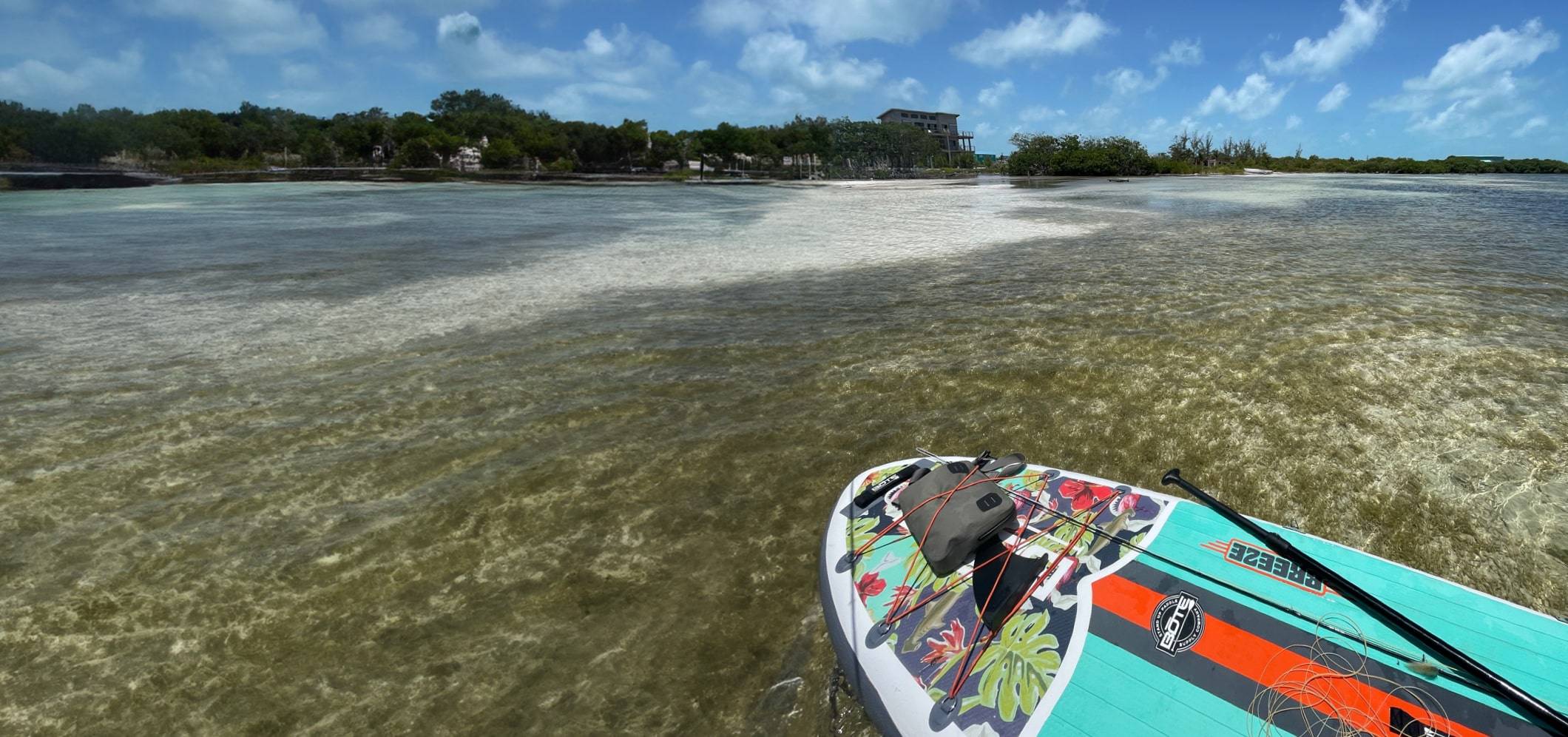 Packing was actually much simpler than I imagined. I rolled my pump and paddle inside the board for protection, and then packed my clothes, towel, and daypack around the edges of the bag for extra padding. Of course, my fly-fishing gear stayed with me in a case as my carry-on. Priorities. This left me with only two bags, and I was comfortable and mobile on the travel days.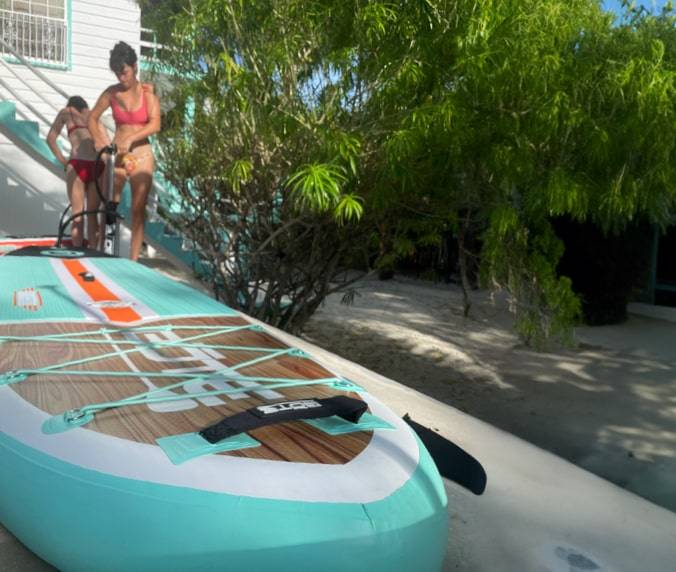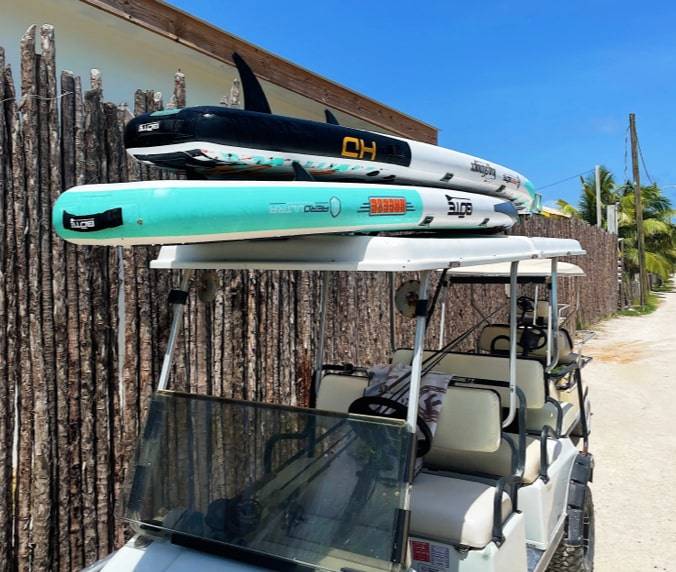 When the day finally came to fly out, it was wonderfully uneventful. The baggage person didn't bat an eye when I set my BOTE bag on the scale; it was just like any other checked bag. I found it waiting for me (dirty, but unharmed) on the tarmac in Belize City. The Belizean customs agent looked at us and, seemingly puzzled, asked what was in the huge bags.
I offered with a grin, and he motioned us through, unamused. Our travel day then included a taxi to the port, a water taxi to the Caye, and finally a golf cart to our rental house. We got a couple confused looks, but had no issues during the 4 methods of travel.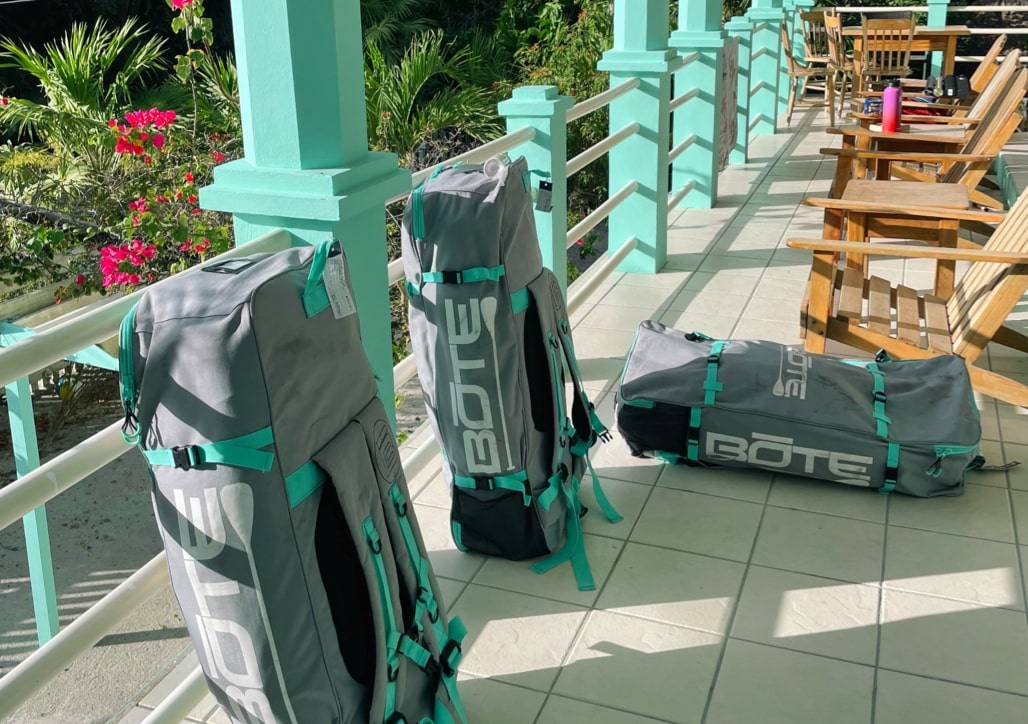 In the following days, I was able to explore the island in ways I never could've on foot. On shallow, hard sand flats, I would hop out and wade, leashing the board to my belt and using it to hold a spare fly rod rigged for snook/baby tarpon, a water bottle, and my gear. On grass flats with soft mud (the most common type of bonefish habitat on the Caye) I would stay on the board with my rod between my feet. It was an incredibly effective way to sneak up on unsuspecting bonefish, and I landed several from the board.
The freedom of constant access was a huge benefit that I hadn't considered until I was out there. Because we didn't rent the boards and there was no return time, I could fish for a few hours, run home and take a dip in the pool, and go back out after I'd cooled off. I could also launch from different places on the island to check different flats and hide from the wind. It made for a well-rounded vacation.
My non-angling companions used their boards to explore the water around the island and enjoyed sunbathing and reading from them as well. Their "big adventure" was snorkeling at a remote drop off on the back side of the Caye. One would hang out and watch the boards while the other snorkeled, and they would switch every few minutes. Their primary use, however, were short sunset watching missions before dinner.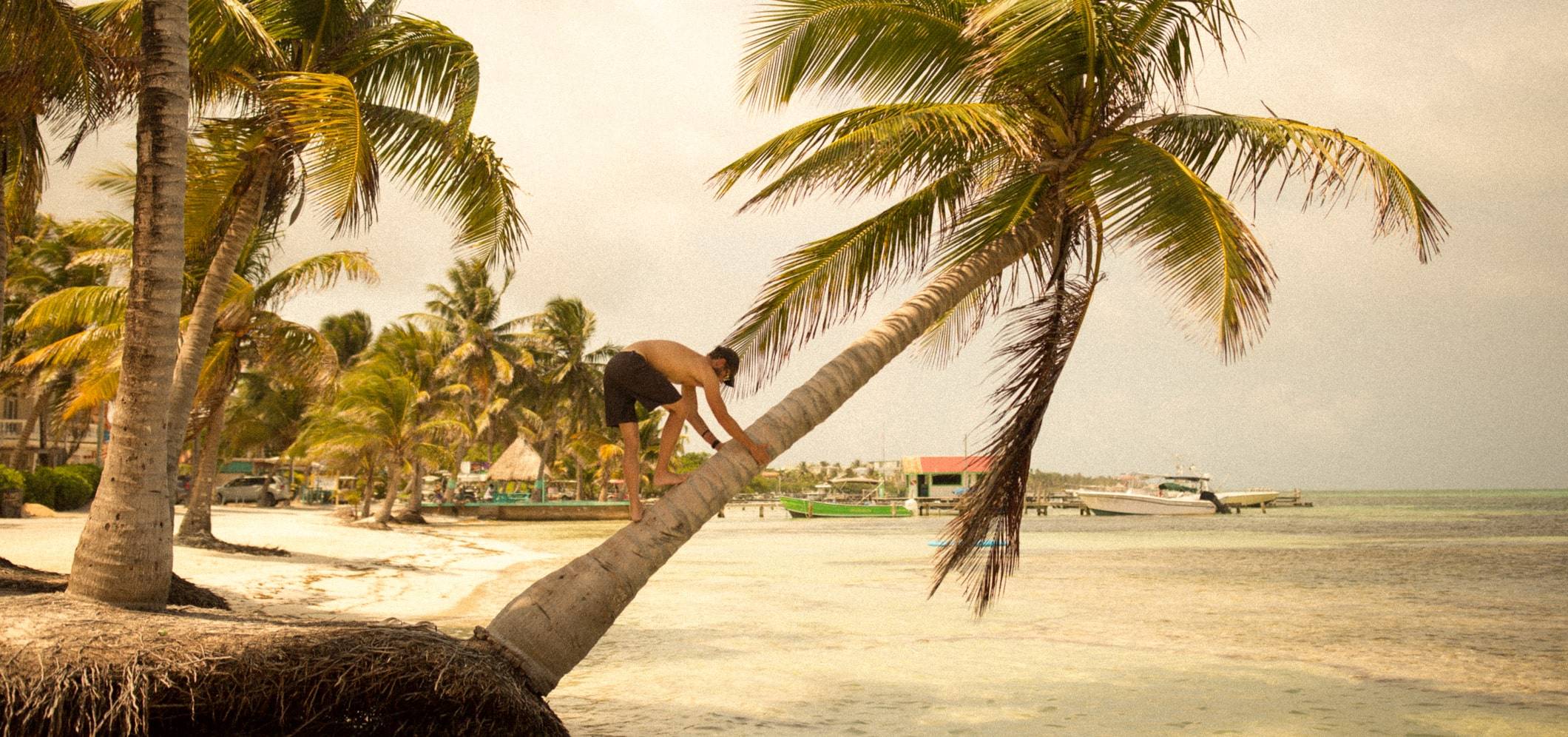 I learned a couple travel hacks about DIY paddleboard travel on this trip. First, you don't need a pump for every board. We brought two pumps for our 4 boards, and it saved precious space in our bags. Second, bring a good set of radios with you. My friend brought 4 radios and we were able to communicate with each other and with the group back at the house. This is helpful for sharing fishing info, and it's a great safety tool if you find yourself in a pinch. The pool crew was able to give us a heads up on a big storm brewing, and we got home right before the wind and rain kicked up. If you're going to fish skinny flats for bonefish, I would also recommend the 6" Aero Center Fin, because the standard 10" fin can drag sometimes. Lastly, bring a shoulder strap for carrying your paddle board once it's inflated. BOTE boards come equipped with handy D-rings, and it's a life saver if you have a long walk to the put-in location.
Overall, traveling with the BOTE boards was much easier than I anticipated, and the access they grant you couldn't be done with any other watercraft. I won't be going back to Central America without them. Since we're on the subject, have you heard of any flash sales from Houston to Belize?